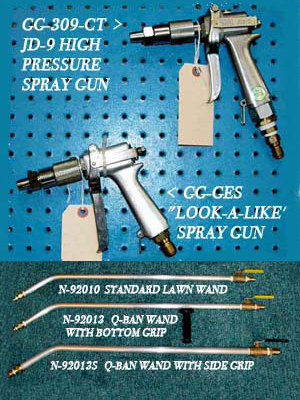 Adjusts quickly from mist to pencil-like stream. Trigger locks on for user comfort. Ruggedly built, precision machined. Wide choice of tips, nozzles and root feeders. CT Model is tapped for use with a gauge to calibrate pressure settings, more accurate than pump gauge.
Ergonomically designed spray gun adjusts from mist to pencil-like stream and sprays from 5 to 800 PSI. Trigger lock allows for comfortable day-long use. Ruggedly built and precision machined from high-quality materials. Easily rebuilds from interchangeable parts assuring years of dependable service. U.S.A. Fitting Size (in.): 3/4, Pressure (PSI): 800, Adjustable Spray: Yes
Neelco's 4 box lawn and pest control truck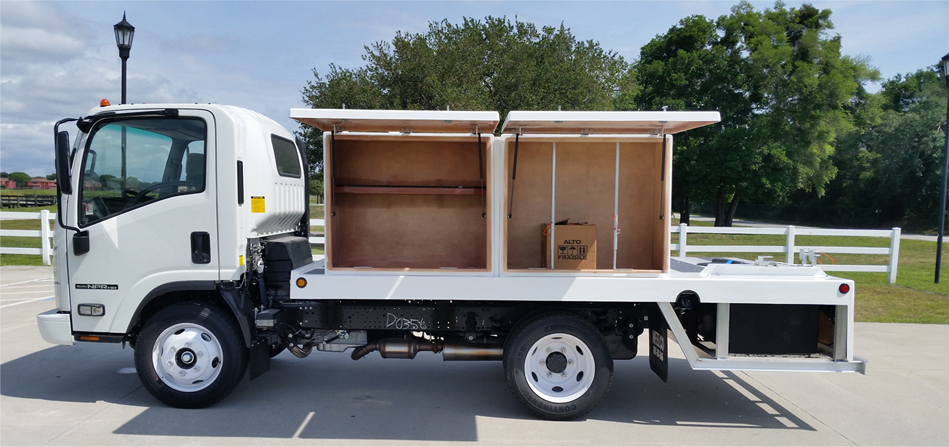 Step and Handle for easy access to deck

Two electric Titan hose reels with SS manifolds

600 feet Orange 570 psi spray hose

Honda 5.5 h.p.

manual-start

engine

Udor Kappa 55 15 g/m pump
Aluminum deck and frame

Fiberglass deck available

Four fiberglass Premier Boxes

600 gallon

fiberglass main tank

200 gallon

drop tank split 150/50

Below-deck hand-wash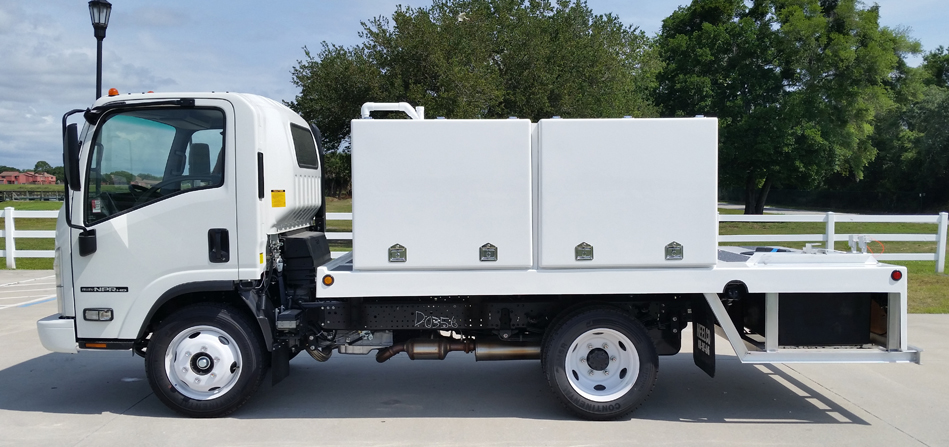 The truck shown here has an internal pump and engine with an engine cover. An alternative configuration is to have the pump and engine in one of the Premier Boxes, and the reels stacked in another Premier Box. That leaves a third Premier Box for chemical storage and the fourth for fertilizer storage. An optional underbody chemical storage box can be added.
Advantages include:
almost all components

serviceable

from the ground

corrosive fumes are isolated from other equipment

downtime due to equipment failure is reduced

all boxes have strong locks making equipment secure

lots of space for advertising on sides and at

back

the clean, professional look attracts potential customers
CUSTOM BUILT SPRAY UNITS
LAWN & PEST TRAILER UNIT
COMPLETELY ENCLOSED TRAILER SET UP TO PROVIDE CLEAN / PROFESSIONAL APPEARANCE AND EQUIPMENT PROTECTION

200 GALLON FIBERGLASS TANK SPLIT 150 / 50 TO ACCOMMODATE LARGE AND SMALL APPLICATIONS

MANUAL HOSE REEL WITH 300′ X 3/8″ SPRAY HOSE PLUMBED TO SPRAY FROM EITHER TANK

COMPLETE UNIT MOUNTED ON ALL ALUMINUM SKID FRAME FOR EASY INSTALLATION AND REMOVAL

ALL EQUIPMENT CAN BE CUSTOMIZED TO MEET CUSTOMER'S SPECIFIC NEEDS